...including you!
tanxs for sharing that moment, ikeremix.
D3
**** As I mentioned earlier, Greg and I played a lot of rounds of golf together (Bethlehem Muni, The Steel Club, Whitetail, Southmoore, Center Valley and Berkshire CC in Moselem Springs. I recall our trip to Berkshire: a friend of mine had a brother in law who was the Pro there. I ask could I invite Greg and he said sure. As we played Greg was his typical self, unassuming, friendly and professional. I remember two distinct things happened, first he duffed a shot that went no more than 30 yards and second he hit an approach to the green that bounced and hit the pin and ended up about 6 inches from the cup. His reaction to both shots was the same, a little smirk, nothing more. Additionally, in all the rounds we played, I never saw him "improve his lie". He would say: "Just like in life, you play it where it lies". I never forgot that. He was a gentleman who lived by a specific creed. RIP Friend.
From this past season's EIWA @ Stabler. Greg pictured w/OW Josh Humphreys.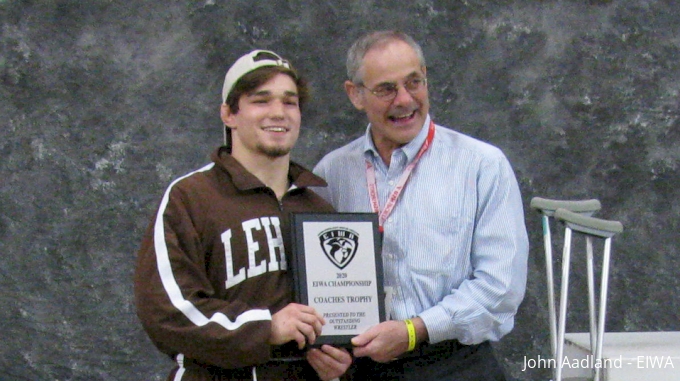 Yes.
D3
I am still stunned over Greg leaving us. I had just exchanged emails not too long ago about his plan to come back up to Bethlehem to join our pre-football tailgates and see the wrestlers (all assuming winter and spring schedules would be going). He was so full of life--despite some major physical and emotional challenges in the past few years. I fully agree with what has already been posted. They say people shouldn't be put on pedestals, but he was one of the exceptions. At least he is at peace with Donna.
Posts: 331
Joined: Mon May 07, 2018 10:42 am
Contact:
ikeremix

wrote:

↑

Fri Oct 09, 2020 10:38 am

Great coach and man.

I had a couple interactions with him while on campus - but my first was as an ignorant and arrogant freshman in 2004. The interaction came in the form of email correspondence. One of the Ciasulli (can't remember if it was Seth or Matt) brothers hadn't wrestled the first few duals of the season. After one of the matches and a night of drinking on the Hill I decided to email Coach Strobel (who I didn't know), whose email was readily available on LUs website.

The point of my obnoxiously long email was that I grew up in the Lehigh Valley and knew Matt/Seth's talent was better than what we were putting out there at the weight. And like the entitled and arrogant kid that I was, I wanted to know why he wasn't wrestling for us at the time.

Waking up the next morning, after a trip to the Goose, I was a little embarrassed having remembered the email. But forgot about it, knowing there was no way in Hell he would read it, let alone respond to a random student's email that was sent at 4am in the morning. Well later that week I received a lengthy response from Coach Strobel - first thanking me for my support and interest in the team/program. He then went on to delicately explain that Matt/Seth needed some extra time to acclimate to his new weight but they expected him back in the near future.

One of the classiest emails i've received in response to probably one of the least classy emails i've ever written. Very sad to hear this news, but I'm sure he's left his impact on many.
Great story! Shows the class of the recipient and ... many years later ... the sender.
... such as BlueWhiteIllustrated. The PSU (nits) wrestling forum!
https://bwi.forums.rivals.com/threads/c ... el.278724/
Tells you much of the quality & integrity of the man!
D3
It has been noted, that Cornell wrestling fans, that were posting on TheMat.com forum on that mega-lengthy topic of Big Red Cornell wrestling, now have there very own website to post:
http://bigredbears.com/
Of course, it's there own site, and that they can post what they deem relevant to Cornell wrestling.
But I'm a little surprised that they haven't mention about Greg's passing. (
Yet, or at all...)
Lehigh/Cornell have been the premier match up virtually every season... great matches and rivalry ( ...and the drama, of course.
)
NothingMeaningful (klehner to most of you from the WR forum) has been a frequent poster from the Cornell side of things. Any comment?
Greg Strobel must mean
something
to the BigRed faithful, yes?
Jus' wunderin' aloud.
D3
Last edited by
D3 for LU
on Sun Oct 11, 2020 11:16 am, edited 1 time in total.
Posts: 84
Joined: Fri Oct 25, 2019 11:23 am
Location: Cambridge, MA
Contact:
Not sure about anyone else, but I've found myself thinking about Greg alot the past few days. Perhaps his age (68) -- we were 1 year apart -- perhaps never having anything but a positive experience with him -- perhaps the manner in which he conducted himself and how well he represented Lehigh ..... but just can't seem to wrap my head around his passing. I'm confident he is in that 'better place' right now and hopefully he sees how much he meant to so many folks. Greg was a well-rounded man; not just a wrestler/coach but a man's man with a variety of interests. When you can combine faith, family, passion and talent you get a super hero like Greg Strobel. Thanks Greg for impacting so many lives including my own. Rest well my friend.
Marina & I were shocked when we heard of the sudden unexpected death of Coach Strobel.

The first time that we watched a Coach Strobel Lehigh team was January 26 1996 at Annapolis.
We were still living in Northern Virginia. It was the last time that we were present for a NAVY victory over Lehigh. We lost 19-15 on a Navy pin at heavy weight. It was also the first time that weI saw Chris Ayres in action. One could sense the emotional burden that Coach Strobel was carrying. The day before this match, his former benefactor, John Dupont had murdered Dave Schulz. After the match, I shook Greg's hand and wished him well in the future of Lehigh. I still remember his look.

In my opinion, Coach Strobel saved LEHIGH wrestling. With the exception of the 1995 EIWA Championship upset, Lehigh wrestling had become mediocre at best. Coach Strobel 's success brought pride and excitement back to the Lehigh wrestling. Coach Strobel teams and wresters gave us some great memories.

The last time that I got to talk with Coach Strobel was at the memorial service for his beloved wife Donna. As usual, he was very gracious to us although we were only acquaintances at best. We compared notes regarding broken knees. Greg had just broken his and I had broken mine over fifty years ago.

Until I began this note, I did not realize that impact that Coach Strobel had on this fan.
Greg, Thank you
Users browsing this forum: No registered users and 20 guests